Open Doors To A Whole New World Of Communication
Advanced Spoken English for the real world' – a program designed to boost your English speaking skills to the next level. This English speaking course features realistic dialogues through the explanation of English grammar that goes beyond the traditional and basic system of learning the English language. The vocabulary section of this advanced English speaking course includes the most commonly idiomatic English expressions you would come across your daily English conversation. This English course at Let's Talk Institute ( Mumbai) has plenty of interactive exercises to help you improve your English, become fluent in English and accomplish your real life goal to speak English fluently and confidently.
This Advanced level English speaking module teaches you English, the way you hear on the streets, in restaurants, at the movie theatre and at parties – It will teach you the English of your friends and co-workers.
MEET people and make friends
SPEAK with ease and confidence
SUCCEED in job interviews
GET BY just about everywhere
ESL certified courseware with MP3 audio CD
Carefully designed English speaking course modules with tonnes of role-plays, exercises & vocabulary. With this basic English course, you would get a Spoken English reader, Spoken English exercise book and an MP3 CD ( copiable to your mobile phone). Take the content wherever you go, learning never stops for you.
​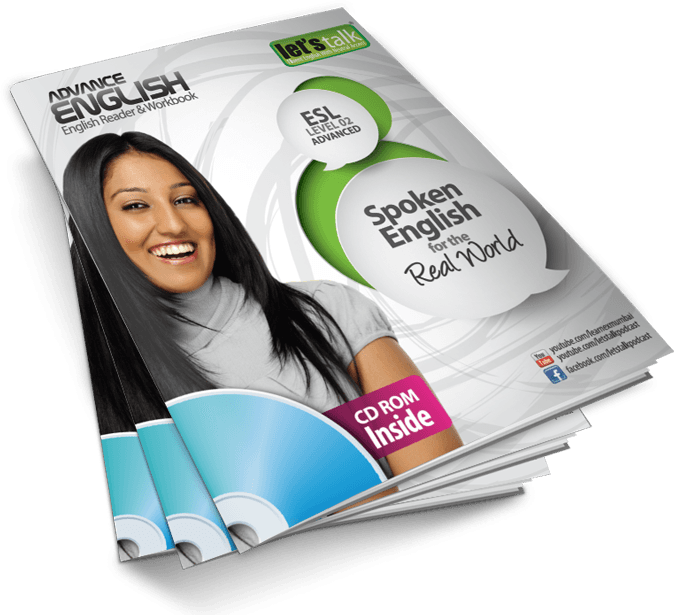 Course Highlights

Audio Visual Training
Interactive learning experience with audio – video content to learn English faster and better. MP3 files provided as per the course modules to learn anywhere, anytime.

Job Assistance
Looking to get your dream job! It's time to flash the Job interview skills you have learned in this module. Job interview assistance with over 100+ MNC's. That's what we say – Better English – Better Job – Better Salary.

Free Assistance After Course Completion
It doesn't end with the completion of your English course. You would access to our free online English lessons, the ever growing library of more than 850+ English lessons already in place covering topics such as, Grammar, Vocabulary, Conversation and much more.

Pictionary
Course books designed with a lot of picture vocabulary to get a better understanding of the lesson plans. Easy way to remember the most difficult vocabulary as pictures register faster than words.
Course Module In Details
Advanced grammar and vocabulary
Learn different types of Nouns, Adverbs, hands on various Tenses.
Idiomatic expressions.
How to implement the learned grammar in conversation.
Building powerful vocabulary.
Communication skills part 01
Overcome barriers to fluent English.
Speaking and Listening in English aren't the same.
Practice speaking and listening.
Learn commonly used idioms, phrases and proverbs.
Communication skills part 02
Practice writing skills in English.
How to write effective emails.
Learn business correspondence required at work.
Improve your reading skills – Focus on syllable word stress and Intonation.
Extempore and Group discussions to make your think in English and speak impromptu.
Learn the difference between Normal English vs Smart English.
Testing and Evaluation of what you have learned in the previous sections.
Accent neutralisation and fluency
Correct your diction and improve English pronunciation.
Learn vowel and consonant sounds.
Learn appropriate word stress to gain clarity in communication.
Identify your fluency barriers.
Personality development & Public speaking
Killing nervousness and developing confidence to communicate.
Learn body language basics.
Dress code and colours that make you look professional.
Improve your presentation skills.
Learn basic etiquette required to project your right image.
How to handle stress in life.
English lessons for the real world
20 audio- video lesson plans covering topics such as –
1. Personal communication with strangers, office colleagues, friends, relatives etc.
2. Business communication – Telephonic communication with clients and customers. Communication at office meetings and superiors.
3. Formatting a professional job resume`. Job interview question ( what do they mean) and their acceptable answers. Tips and tricks for a successful job interview.
What are you waiting for? Get started now!
You have always wanted to speak fluent English, don't you? So what are you waiting for? Get started right now, send us your details and our course executive would ring you with all the details you need to get started to be fluent in spoken English.

​