Are you struggling to speak English in business?
This Business English module gives you the skills you need to sound professional and communicate with ease at the workplace.
Business English Course Details-
Whether you are a manager or a business professional looking to take your career to the next level, you are at the right place. Our Business English course is well designed to suit any business professional who is looking for a specialised Business English course led by professional and experienced trainers. Our English Institute at Mumbai offers a customised and practical Business English lesson plans that will help you develop a good sense English used for business. This Business English course module covers basics of the business language, advanced grammar, understanding social etiquette and cultural differences. With this Business English conversation course module, you would familiarise yourself with up-to-date idiomatic expressions, build confidence in business communication – be speaking, reading, writing English in professional or formal settings.
This Business English module includes 35 essential lesson plans which include: Marketing, Advertising, Computers & Internet, Company & Jobs, Corporate well-being, Managing Tasks, Complaining & apologising, Office discussions, delivering presentations, chairing meetings, problems & suggestions, ethics and conduct in an office etc.
SPEAK professionally.
EXPAND your vocabulary.
FINE-TUNE your language.
UNDERSTAND business culture.
Case study rich course content from popular business magazines
Carefully designed 128 page business communication course book containing business English vocabulary & essential sessions such as – Marketing and Advertising, Computers and Internet, Company and Jobs, Corporate well-being, Managing Tasks, Complaining and Apologizing, Office Discussions, Delivering Presentations, Chairing Meetings, Problems & Suggestions, Ethics and Conduct in office etc.
​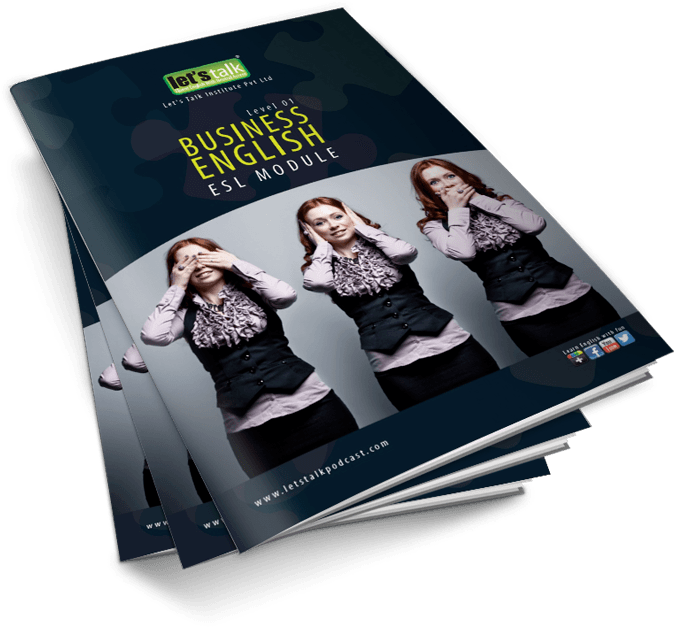 Course Highlights

Small Size Class
Our maximum class size for Business English course is ten students in a batch, which allows the trainers to focus on each Business English student and provide personalised instruction and gauge their performance effectively.

Presentation Practice
Students improve their presentation and business English conversation skills by presenting a topic to their class and the training staff at the end of their course. Students also receive a Business English certificate upon completion of their presentation.

Flexibility and Variety
We understand that time is important to you and we value that, we offer a number of different course timings options (part-time, full-time, group instruction, and individual instruction), to ensure that we have a course that meets your time constraints and Business English needs.

Experienced Instructors
All Business English trainers have a university degree and have undergone a specialised Train the Trainer program in Teaching English as a Second Language (ESL). In addition, they all have experience working in the corporate, this experience helps them to connect with the students and bridge the skills gap more efficiently.
Business English Lesson Plan Outline
Introductions & Introducing
Birth & Upbringing Company & jobs
The career Ladder
Diplomatic language
Showing around visitors
Describing employees
Common expressions in business English
Starting and ending a call
Telephone messages
The email style
Working at the cafe`
Managing tasks
Corporate well-being
Financial statements
The next emerging market
Office discussions
Problems & Suggestions
Hello! I'm on the phone
Chairing meetings
Delivering presentations
Business phrasal verbs
Recession marketing
Marketing strategies
The sales meeting
Dealing with negotiations
The fame game
Complaining and apologising
Innovation and product development
Mixed signals for outsourcing
Ethics and conduct in office
The e-commerce revolution
How long would you struggle with your business communication skills?
You're smart. You're intelligent. You're hard working. Then what makes your colleagues more successful than you? The answer is simple; they've better presentation skills, while you fumble for words, while they have already put across their point confidently and effectively. So, what are you waiting for, come on in and get started!